News Releases
June 23rd, 2017
SmileBoom Co. Ltd.
Game Development Software for Windows
"SMILE GAME BUILDER" 70% OFF!
New Feature "3D Character Editor" will be Released!

SmileBoom Co.Ltd. (Head Office in Sapporo City, Hokkaido, President and CEO: Takaki Kobayashi) will announce that "SMILE GAME BUILDER" for Windows, game development software, will be 70% OFF with the special price $23.99 during "2017 Steam Summer Sale" which will be hosted by the Valve Corporation. With the special price of the main tool, we'll provide our additional material resource packs of download contents (DLC), 3D characters and music, at the half price.
At the same time, we'll announce to release an additional feature DLC of "3D Character Editor" which was many users have requested it.
About 2017 Steam Summer Sale
For people who are interested in game developing, we proudly announce and offer SMILE GAME BUILDER and its additional DLC resource packs at cheaper prices during this period. This is a golden opportunity to try to make your original games. Please purchase it and have fun making games.
◎The Period of Steam Summer Sale
Two weeks from June 22nd through July 5th, 2017 *Steam Summer Sale will be from June 22nd 9:50am through July 5th 10:05am Pacific Standard Time.
◎Sale Products and Special Prices
The following list would be the sale products with the special prices.
| 70% OFF | Special Price | Usual Price |
| --- | --- | --- |
| SMILE GAME BUILDER | $23.99 | $79.99 |
| DLC 50% OFF for SMILE GAME BUILDER | Special Price | Usual Price |
| G-Style Modern City Resource Pack Vol1 | $9.99 | $19.99 |
| Corpse Party Tenjin Primary School Pack | $9.99 | $19.99 |
| 8-bit Sound Pack by JOEDOWN | $9.99 | $19.99 |
| Dignified Fantasy Music Vol.1 | $9.99 | $19.99 |
| The Music Box Japanese Horror Complete Bundle | $17.49 | $34.99 |
◎The Privilege for the Formerly-Purchased Users
We would like to thank you who have purchased SMILE GAME BUILDER before this sale for all the support we have received from you; this new feature DLC of "3D Character Editor" would be free of charge. More information about this DLC, how to obtain it and so on will be announced at our official website in near future.
About New Feature "3D Character Editor"
The most requests from the users were "Enrich the Number of 3D Models." There were a limited number of 3D models in SMILE GAME BUILDER, so the visual contents of the games were in the range. However, the users can create original 3D models with this new feature "3D Character Editor" easily.
Usually, in order to create 3D models, you need to have some knowledge and high-grade modeling software. However, with this new feature, you can make new characters by just choosing preset parts and coloring the textures. Of course, the new 3D models can be added into your games right away. The range of expressions will be remarkable and unique.
We're planning to distribute "3D Character Editor" soon. The information will be announced on our official website.
◎How to Make 3D Characters
There are four parts for character making: hair, head, body and legs. Use the painting program in the system to color the textures for faces and clothes. You can make 3,570,000 ways of 3D character models just combining presets parts, even more, if you paint the parts as you like, there will be almost infinite number of 3D characters you can use. There is no need to edit vertices of polygon models; all you have to do is just choose and paint.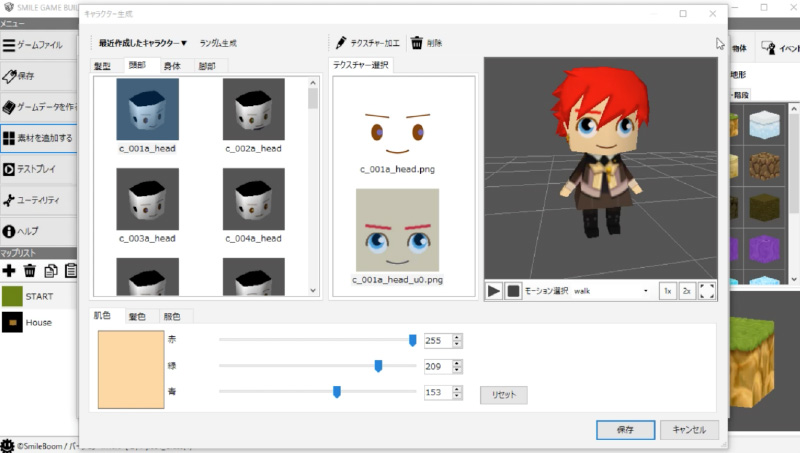 You can change its skin tone, hair color and the color of clothes with the sliders or numbers.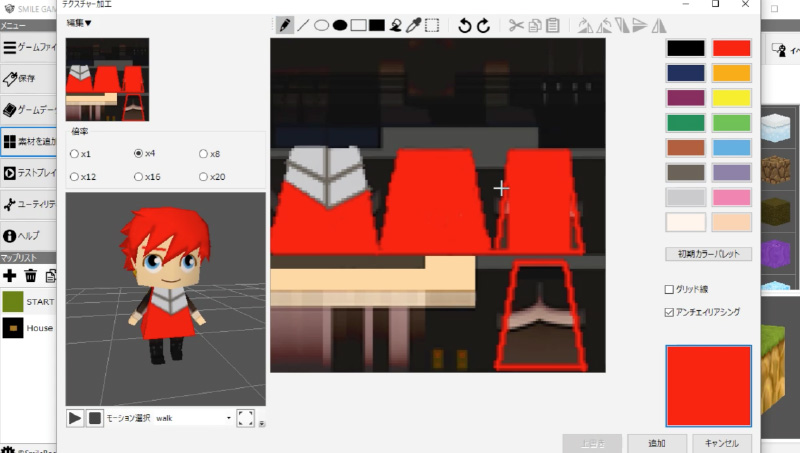 The texture will be applied right away on the 3D model of the preview window, so you can check the final look with the real-time processing.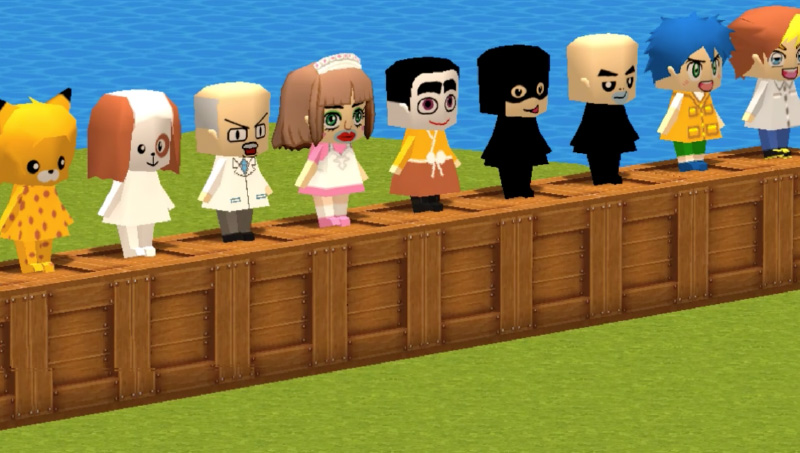 With this 3D Character Editor, you can create unique characters like them. These finished models will be added on the material lists simultaneously with the saving process, and use it immediately for your game development.
These are example models which were made by 3D Character Editor.
Screen Image Set Download
https://smileboom.com/dl/press/summer_sale.zip
Contacts and the Official Information
SMILE GAME BUILDER Official Website

SMILE GAME BUILDER Official Twitter

SMILE GAME BUILDER YouTube Channel

About SmileBoom Co.Ltd.
SMILE GAME BUILDER is a registered trademark of SmileBoom Co.Ltd.
© 2016-2017 SmileBoom Co.Ltd.
---
[Inquiries] SmileBoom Co.Ltd.
Media Contact: Kenji Sugiuchi, Miyuki Tanaka
Mail: press@smileboom.com