News Releases
June 15th, 2017
SmileBoom Co. Ltd.
RPG Creating Software for Windows
"SMILE GAME BUILDER"
Releases a NEW Trial Version!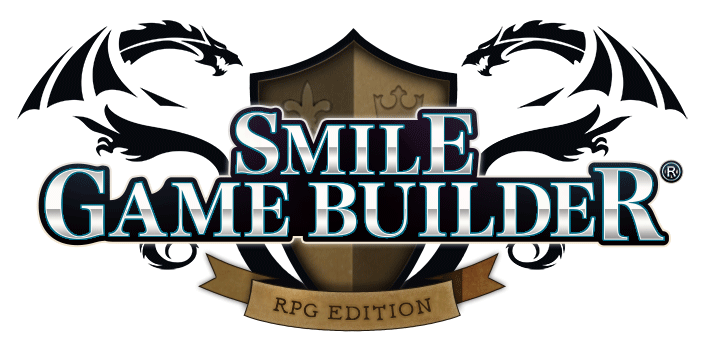 SmileBoom Co. Ltd. (Head Office in Sapporo City, Hokkaido, President and CEO: Takaki Kobayashi) will release both Japanese and English capable a new trial version of "SMILE GAME BUILDER" for Windows, software for creating role playing games on Thursday, June 15th, 2017. This new trial version can be used without any Steam accounts; moreover, there are several features available for you to experience the exciting world of SMILE GAME BUILDER.
Of course, even if the old trial version which was released on August 26, 2016, has been already expired, you could try it.
Furthermore, we've uploaded some useful introductory videos on a new SMILE GAMEBUILDER channel at YouTube. Please look forward for the new videos in the future!
YouTube Channel »
This is a list of the new features and specifications for the new trial version.
Old
Trial Version
New
Trial Version
Steam Membership Registration
Required
Not Required
Usage of the Trial Version by itself (*1)
×

Yes

Usage During the Off-Line Environment
×

Yes

3D Battle System (*2)
×

Yes

Camera Control (*3)
×

Yes

Adding Materials such as 2D Characters, 3D Models and Sounds (*4)
×

Yes




(Maximum 3)

Multi-View Camera System
Yes
Yes
Transferring Game Data to the Product Version
Yes
Yes
Creating 3D Map Equally to the Product Version
Yes
Yes
Usage of Every Event Templates in the Product Version
Yes
Yes
Usage of Every Particle Effects in the Product Version
Yes
Yes
*1 In order to use SMILE GAME BUILDER new trial version, you need to input your e-mail address for an authentication using an one-time code which will be sent from our company.
*2 The 3D battle system has been implemented, so you can choose either 2D battle system as usual or 3D battle system.
*3 This camera control can create visual effects within 3D games by moving the camera positions freely such as zooming in to a specific character and/or zooming out to show a whole map.
*4 You can import your original materials (2D characters, 3D models and sounds) up to three. (Ex.: two 3D models + one sound file = Total 3; three sound files = Total 3)
<SMILE GAME BUILDER – The Specification of the New Trial Version>
1)The "Create Public Game Data" function is unavailable. SMILE GAME BUILDER can output your finished products into autorun format files for people to play who don't have SMILE GAME BUILDER. However, this trial version is limiting this function.
*The users of the product version can use the "Create Public Game Data" function without any restrictions.
2)Our official logos will be displayed in the beginning of playtests. When you operate playtests on the Editor, our official logos, SmileBoom and SMILE GAME BUILDER, will be displayed before the main title shows up.
* The logos are only displayed in the trial version.
3)There is a limitation for adding new maps and changing the map sizes. One game data can contain five maps for each. Adding new maps is unavailable. Moreover, the map sizes are all fixed for the certain size.
4)The sample project data of SGB Quest in the trial version is different from the product version because of the restriction 3 above.
5)The number of pre-packaged materials is modified for the trial version. There is a minimum amount of useful graphics and music materials included for game making.
*The users of the product version can use all the pre-packaged materials.
6)The trial period of this version is 30 days from the one-time code activation day. If the trial period has been passed for 30 days from the activation day, the software will fail to start up.
*The product version of SMILE GAME BUILDER can read saved files of the trial version.
---
Product Name

SMILE GAME BUILDER – Trial Version

Release Date

June 15th, 2017

Download

In Japan and overseas countries

Download Price

Free of Charge

Sales Channel

Our official SMILE GAME BUILDER website and STEAM®

System Environment

OS: Microsoft® Windows7/8/10 (32/64bit versions)


* Performance is not guaranteed under a virtual or emulated environment.

Required System Environment

CPU: Intel Core 2 Duo processor or AMD Athlon™ 64
Memory: 2GB or higher
Graphics: Intel HD graphics 4400 or more, Radeon HD graphics 5430 or more, OpenGL 3.0 or more

Recommended System Environment

CPU: Intel Core or AMD Athlon™ II (K10)
Memory: 4GB or higher
Graphics: NVIDIA® GeForce® 400 series, AMD Radeon™ HD 5000 series
Display: 1366 x 768
Hard disk space: 700MB or more

Official Site

Official Twitter Account

YouTube Channel

About SmileBoom Co. Ltd.
SMILE GAME BUILDER is a registered trademark of SmileBoom Co. Ltd.
© SmileBoom Co.Ltd. All Rights Reserved.
---
Inquiries
Mail: press@smileboom.com 
Phone: +81-11-876-8333
Fax: +81-11-876-8334