News Releases
August 17th, 2017
SmileBoom Co. Ltd.
[Media Contact]
Tadashige 'Buchi' Tsurubuchi
press@smileboom.com
SmileBASIC for Nintendo 3DS is Available
in the Most European Countries on August 17.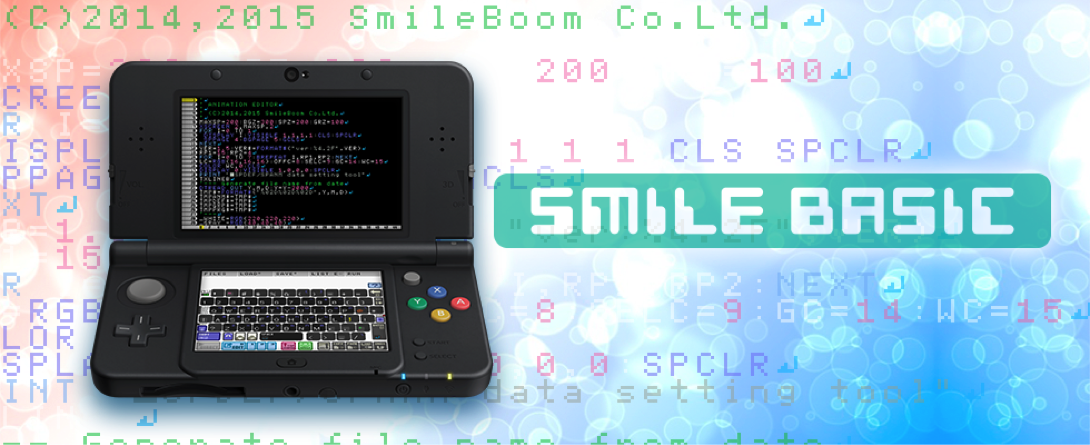 Hokkaido, August 17, 2017 - SmileBoom Co. Ltd. today announced SmileBASIC for Nintendo 3DS will be exclusively available on Nintendo eShop on August 17, 2017 in the most European countries. SmileBASIC is a portable version of a programming language known as BASIC, which allows everyone with or without programming experience to play in programming and enjoy game development anywhere at any time via Nintendo 3DS consoles. The price will vary between countries. For more information and updates, please visit http://smilebasic.com/en/.
SmileBASIC Product Feature Examples:
A Range of Versatile Instructions
3D viewing support: Pictures and words that "pop out" from the screen!
Voice input from the microphone and playback
Draw instructions for lines and circles, filling, and more
Rich Sample Library
Over 100 sound effects and 40 BGM tunes
Variety of Sample programs for helping to learn BASIC
Technical samples that allow the user to check the execution results for each instruction
---
SmileBASIC Product Information
Product Name

SmileBASIC

Release Date

Aug 17, 2017

Price Information

Sales Regions

Australia, Austria, Belgium, Bulgaria, Croatia, Cyprus, Czech Republic, Germany, Denmark, Estonia, Finland, France, Greece, Hungary, Ireland, Italy, Latvia, Lithuania, Luxembourg, Malta, Netherlands, New Zealand, Norway, Poland, Portugal, Romania, Russia, Slovakia, Slovenia, Spain, Sweden, Switzerland, United Kingdom

Official Website

Distribution Format

Nintendo eShop

Official Twitter Account for SmileBASIC

Copyright

©2017 Smileboom Co.Ltd

Download free screen captures and product images

http://smileboom.com/dl/press/20151009smilebasic_en/SmileBASIC - Media Assets.zip (1.3MB)
About SmileBASIC
SmileBASIC is the ultimate "mobile programming environment" for everyone from beginners to experienced programmers. The latest version is the 3rd generation of Petit Computer since 2011. The newest version has a new name, SmileBASIC, and it is designed from the ground up specifically for Nintendo 3DS. In this version there are lots of new features and improvements. One of the remarkable features is stereopsis (or 3D viewing) support. No complicated mathematics required. Just one instruction brings 3D capability into your program. You are now able to get the most out of Nintendo 3DS including stereopsis support. Additionally, SmileBASIC allows you to share your program with others by uploading to our own cloud service and you can download programs by others from the cloud as well.
SmileBASIC is the only programming language helping your imagination come true on your Nintendo 3DS and you can electronically share your program to others around the globe.
SmileBoom Co. Ltd. is a software development company in Japan. We have created many kinds of software for every kind of hardware, such as PCs, video game consoles, handheld game consoles and so on. Our continuous challenge is to create new and interesting software on any hardware that may be released in the future.
SmileBASIC is a trademark of SmileBoom Co.Ltd. Nintendo 3DS is a trademark of Nintendo. © 2011 Nintendo. Petit Computer is licensed and published by Gamebridge Ltd. Petit Computer is developed by SmileBoom Co.Ltd.