News Releases
September 29th, 2022
SmileBoom Co. Ltd.
[Media Contact]
SmileBoom Co.Ltd.   The person in charge: Nobuki Nagai
info@smileboom.com
RPG Creation Tool for PC RPG Developer Bakin - Notice of Early Access Start Date Change October 3, 2022 to October 17, 2022(PDT)
September 28, 2022 - Sapporo, Japan - Today, SmileBoom is pleased to announce that the Early Access start date on Steam for RPG Developer Bakin, an RPG creation tool that allows users to create games regardless of programming knowledge, will be changed from October 3, 2022 (PDT) to October 17, 2022 (PDT).
The postponement of the Early Access launch is in response to improvements we noticed when we exhibited the game at the Tokyo Game Show 2022, and to add features that the team wanted to implement before the Early Access launch in response to feedback we have received since it was announced. We apologize to all those who have been waiting for the release of this tool, as we have received a great deal of positive feedback since the release date was announced.
Our team will continue to work hard to improve it for the new release date, and we ask for your continued support.
Release date before change: Scheduled for October 3, 2022 (PDT)
to
Release date after change: Scheduled for October 17, 2022 (PDT)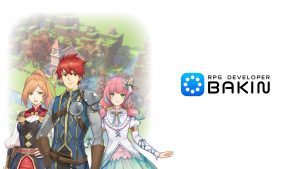 About RPG Developer Bakin
"RPG Developer Bakin" is a game creation tool that combines ease of use and high features, making it easy for anyone to create games inspired by "your world". It includes a map editor that allows you to create maps as if you were playing a game, an event creation system that controls the game by simply arranging panels with functions, a database that provides detailed character status settings, advanced screen effect settings that can dramatically change sceneries, and many other tools. Graphics and sound assets are also provided, so you can start creating "your game" right away.
RPG Developer Bakin News
https://steamcommunity.com/app/1036640/allnews/
RPG Developer Bakin
Early Access Start Date: October 17, 2022 (PDT)
Price at the Start of Early Access: $69.99(USD)
Steam Page: https://store.steampowered.com/app/1036640/RPG_Developer_Bakin
Official Website: https://rpgbakin.com
Official Twitter: https://twitter.com/RPGBakin
Official Facebook: https://www.facebook.com/ RPGDeveloperBakin