News Releases
October 9th, 2015
SmileBoom Co. Ltd.
"SmileBASIC" will be available in the US, Canada and Mexico on October 15th.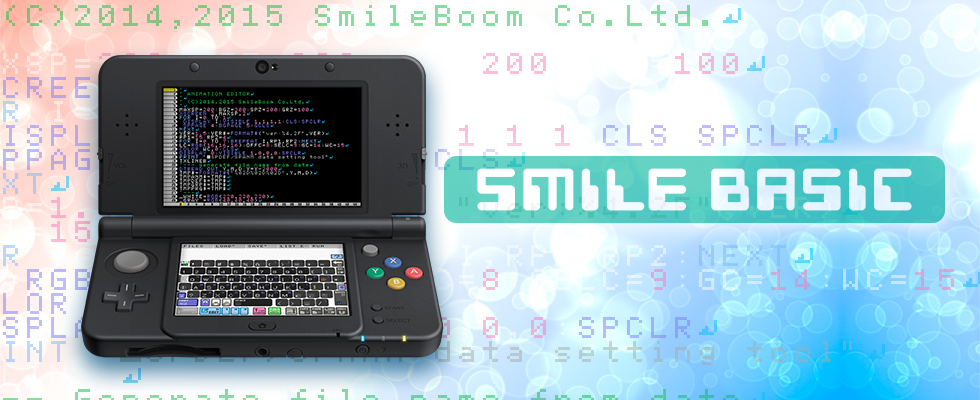 Sapporo, Japan - Oct. 9, 2015 - SmileBoom Co.Ltd. proudly and finally announced that it has been officially decided to deliver SmileBASIC, the long-awaited English localized version of Petit Computer the 3rd, in the US, Canada and Mexico on October 15th, local time. The price is $9.99 for the US, CA$12.99 for Canada and MEX$158 for Mexico. SmileBASIC is available on Nintendo eShop exclusively.
SmileBASIC is a true localized version of Petit Computer the 3rd. There is no difference from Japanese version except the localization. Same instruction set, same features and same online services. That means programs are compatible and able to run on both SmileBASIC and Petit Computer the 3rd. So users can share, download and enjoy programs created by others on the globe.
| | |
| --- | --- |
| Product Name | SmileBASIC |
| Release Date | Oct 15 2015 |
| Price | $9.99 for the US, CA$12.99 for Canada and MEX$158 for Mexico |
| Official Web Site | http://smilebasic.com/en/ |
| Number of Players | Up to 4 players for a multi-player capable program |
| Sales Regions | US, Canada and Mexico |
| Copyright | ©2015 Smileboom Co.Ltd. |
Media Assets

Official Twitter Account for SmileBASIC

@smilebasic_com (https://twitter.com/smilebasic_com)

Press Contact
---
About SmileBASIC
SmileBASIC is the ultimate "mobile programming environment" for everyone from the beginners to the experienced programmers. The latest version is the 3rd generation of Petit Computer since 2011. The newest version has a new name, SmileBASIC and it is designed from the ground up specifically for Nintendo 3DS. In this version there are lots of new features and improvements. One of the remarkable features is a stereopsis (or 3D viewing) support. No complicated mathematics required. Just one instruction brings the 3D capability into your program. You are now able to get the most out of Nintendo 3DS including the stereopsis support. And one more thing. SmileBASIC allows you to share your program with others by uploading to our own cloud service and you can download programs by others from the cloud as well.
SmileBASIC is the only programming language helping your imagination come true on your Nintendo 3DS and you can electrically demonstrate your program to others on the globe.
Disclaimer
Some information contained in this press release relates to a pre-release product that may be substantially modified before its first commercial release. Accordingly, the information may not accurately describe or reflect the product when first commercially released. The press release is provided for informational purposes only, and SmileBoom Co.Ltd. makes no warranties, express or implied, with respect to the press release or the information contained in it.
Copyright Notice
SmileBASIC is a trademark of SmileBoom Co.Ltd. Nintendo 3DS is a trademark of Nintendo. © 2011 Nintendo. Petit Computer is licensed and published by Gamebridge Ltd. Petit Computer is developed by SmileBoom Co.Ltd.