News Releases
March 16th, 2016
SmileBoom Co. Ltd.
SmileBoom announces the development of a brand-new game creation tool that eliminates the need for programming
- Smile Game Builder, software that allows users to create RPGs without programming, has been unveiled at the Game Developers Conference -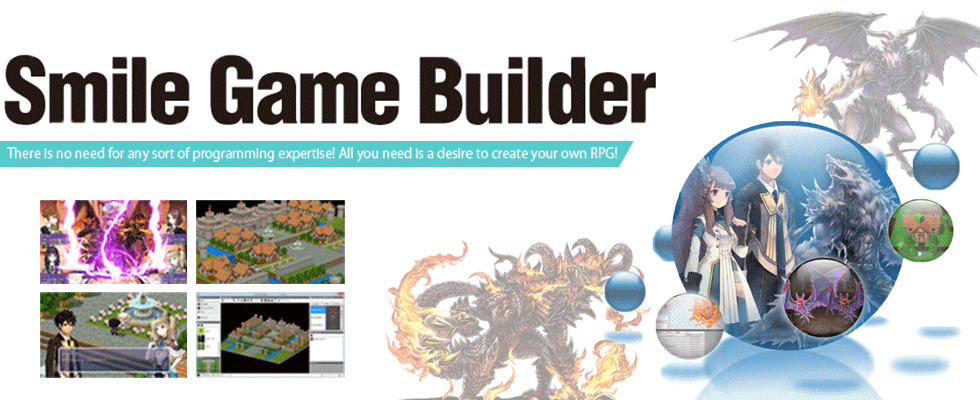 SmileBoom Co., Ltd. announced today that the development of Smile Game Builder, software for Windows that enables you to create role playing games (RPGs) without programming, is currently underway and scheduled to be released sometime this year. The work-in-progress version of the Smile Game Builder is being exhibited at our booth at the Game Developers Conference 2016 held in San Francisco, USA.
We started the development of this new game creation tool, Smile Game Builder, as a way to enable anyone to build an RPG using a 3D map without the need to use programming or script language, or to create any 3D modeling data.
Normally, in order to build the structure of games like RPGs, you must have a good command of programming and scripting languages such as C language. You also need the ability to prepare various types of graphics, sounds, and resources, which may include things like ally and enemy characters, backgrounds for maps, sound effects, and background music. In the past, because broad knowledge, experience, and skills were prerequisites for creating a desired game, it was nearly impossible for most people to do so even if they had the interest.
For the Smile Game Builder, a game editor designed specifically for building RPGs was newly developed, and this allows you to create desired images intuitively by simply using a mouse. Therefore, no programs or scripts need to be written for any of the elements involved in the building of an RPG, including the creation of maps for the stages of the game, allocation of items, various stage effects, and creation of balance in fighting. While all maps are expressed three-dimensionally, the RPG can be built without having to create any 3D-modeling data for expressing the three-dimensional qualities, or having to spend time on figuring out the layout and setting while considering depth.
Moreover, the Smile Game Builder comes with plenty of graphic resources which are essential parts of RPG creation, including characters and items, and sound resources such as sound effects and background music played during the game. This allows you to save a great deal of time in preparing various essential materials of a game. In particular, because all graphic materials in the Smile Game Builder are three-dimensionally modeled, you can create expressive 3D maps merely by placing each item, such as a cabin or a castle, on the map using the game editor.
Such items are scheduled to be released as additional packages that can be purchased and downloaded online. In these packages, we are currently considering including various popular characters with a focus on SmileBoom's original designs. In our sample games exhibited at the Game Developers Conference, we are using characters from the Ultraman series, thanks to the cooperation of Tsuburaya Production. (Whether to release an additional package containing the Ultraman series characters has not yet been determined.)
The Smile Game Builder is currently being developed with its targeted release date being sometime before the end of this year. The exact release date, price, and product format, however, are still undetermined.
---
Smile Game Builder

Game Developers Conference

SmileBoom Co., Ltd.

For inquiries